ARTICLES
Other Articles by Carl:
Carl's Book Reviews:
Find more of Carl's reviews on the Minnesota Crime Wave site and on his blog, Agora2.
Rigged For Murder
by Jenifer LeClair
Durban House Press
Trade paperback, 205 pages, $14.95
ISBN: 1930754884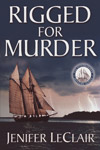 Brie Beaumont is a Minneapolis detective or patrol cop (it's not quite clear all the time) who's on leave after her partner is killed by a bullet Brie figures was meant for her. Her therapy is the Maine coast and a stormy spring sail aboard an old sailing schooner. With a crew of semi-professional amateurs, Brie hopes this sailing vacation will help her to heal from the trauma of that horrifying event. A violent storm visits the sailing ground and when the ship is forced to seek shelter, restive tension comes aboard.
When murder visits the troubled schooner while at anchor, Brie Beaumont is forced to reassume the mantle of law enforcement whether she wants it or not. Her position is complicated by her developing attraction for a member of the crew, and her severe lack of resources. Long distance backup makes investigating the murder and protecting the remaining crew more complicated. The author does a good job of developing her conflicted and wounded protagonist and keeping her appropriately motivated.
The story develops logically, with interesting twists, and satisfactory pace. The setting and the weather are well-handled and provide strong context without intrusiveness. The characters have depth and movement. The only real problem I have with the novel are the frequent and sometimes unsettling changes of viewpoint. Rigged For Murder is a worthy first effort. LeClair gets the sea and the sailing just right.
Chicago Blues
by twenty-one Chicago blues artists
Edited by Libby Fischer Hellmann
Bleak House Books
Hardcover, 456 pages, $27.95
ISBN: 1932557490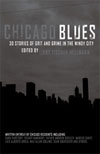 Chicago, like most large cities anywhere in the world, is really two cities. It exists in different times and sometimes in different universes even while the two Chicagos occupy the same real estate. Daytimes the people of the upper world are there, crowds of shoppers, traffic, wheelers and dealers, the thousands or millions who go busily about their daily lives in the hard sunlight, visible by almost everybody.
Then there's the other city, the one you may encounter at night after the sun departs along with the suited workers. This city is a little less crowded, except in the sometimes stifling bars or underground caverns. In this city you'll meet good cops trying to control the violence, and you may brush up against the others, those acquiring their reputations as bad and dangerous boys and girls. In the nighttime you can meet the scufflers, the dealers, the thugs and the killers.
There are other players in Chicago. They are the makers of music, of art, of story. And while they intersect with the rest of the night crawlers, it's often the horn players in the bars and night clubs who lend texture and rhythm to the boozy, bluesy night, that night thick with desire and trepidation, with humidity and icy winds. This city is sometimes violent where the sun never filters in, where the dark denizens shun the scrutiny of the day. The urban canyons of Chicago are often dark enough all day long to sustain the underlife, and the river runs the wrong direction.
Intermingled with the busy daytime traders and the nighttime scufflers are the watchers, the storytellers who observe and remember and write it all down. They often go down the dangerous streets and trash-strewn alleys so you don't have to. You can read all about it and experience at a safe distance that frisson of danger without really getting dirty.
If that's you thing, this is a book for you. If you want to have an up-close experience of the down and dirty blues of Chicago, this is a book you really want to read. Here, collected by astute and talented storytellers who drift through this urban scene, observing, recording, writing it down are some of the best. Twenty one stories collected and shaped in a single volume aptly named Chicago Blues. Dark stories of dark deeds, crisply written, sometimes enlightening, mostly relating tales of unregenerate and occasionally ordinary crime and criminals. Here is the corrupt politician, the vengeful ER nurse, here is history and flashback, here is skin-crawling realism. Life and death in the big city.
I have a tenuous connection with Chicago of an earlier time, of Count Basie and the old Blue Note, of North Clark Street. I have connections with several of the authors represented in this excellent anthology. That said, if you are looking for the true blue essence of the canyons of urban Chicago noir, if you want a sample of the gritty, sticky pavement of crime, of individuals pushed beyond their limits, of the grasping, panting, unredemptive jazz of big city noir, here's a collection that takes hold and grasps and satisfies until the final curtain. This one is a winner, a keeper. This is the blues.
Game of Patience
by Susanne Alleyn
Thomas Dunne Books
Hardcover, 285 pages, $23.95
ISBN: 031234363-9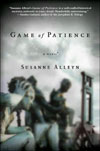 An elegant, elegantly written, precisely constructed novel of Paris in the aftermath of post-revolutionary France, when La Guillotine still held sway and public executions were the order of the day. But Danton and Robespierre are gone, as is the time of terror when wholesale executions are a thing of the recent past. This is a story of love, of passion, of loss and of great friendship set against the panorama of a great political upheaval.
In school we learned how the people rose up in the late Eighteenth Century and did away with the institutions of royalty; how they established the foundation of the French democracy that remains to this day. But we did not learn so much about the nasty darkness that inhabited a good deal of Parisian society in that time just before Napoleon came to power. Here is a rousing novel that probes and reveals what it must have been like to live in that society, as a police official, as a former member of the upperclasses and as a poor workingman ore woman.
The novel is rich in powerful street scenes and characters of 1796 as our guide, freelance police investigator, Aristide Ravel stalks the streets and the halls of power. He attempts to unravel the double murder of a man of some questionable substance and a young woman of a higher class who should not have been in his chambers unattended by a chaperone. The trail takes Ravel through very mean streets and back alleys of a turbulent Paris, as well as into some of the palatial salons and homes of the still-wealthy upper classes, all carefully described in pungent and telling ways.
Alleyn has obviously done meticulous and extensive research and the characters with whom she peoples these pages come alive with impact and care. She writes with a steady hand and her messages are clear, though they never get in the way of this highly entertaining and rousing story. I suggest that to preserve the mystery and the exciting if inevitable conclusion, you not read the jacket copy before you read the novel.
A Farewell to Legs
by Jeffrey Cohen
Bancroft Press
Hardcover, 273 pages, $19.95
ISBN: 1890862-29-0

This author needs to dial it down a little. I mean, do we need a joke, a funny line, a pun or a toe-stubber on every page, nay, in every paragraph? Somewhere there is someone involved in our popular culture who is smiling because Cohen's avatar, one Aaron Tucker, missed cracking wise about him or her, or his project.
Having said that, let me address the substance of the book, that is, the mystery. While attending their twenty-fifth high school reunion, Mr. Tucker and Mr. Mahoney, life-long buddies, discover that their youthful lust object appears to have aged even better than they. In the midst of horny if innocent festivities, the object of their desires, one Stephanie, learns via cell phone (naturally) that her husband is dead. Murdered.
Well, of course, Tucker, a free-lance writer, gets involved. Turns out he's acquainted with the dead guy and what's more the dead guy's widow wants Tucker to investigate, in order, presumably, to cover her assets and avoid incarceration. Then there's the matter of Mr. Gibson's politics. Now you, dear reader, may be a conservative, a Democrat, a Progressive an Independent or a liberal. It doesn't really matter, because your political ox gets gored at some point during this narrative.
Also, Mr. Tucker, being a stay-at-home with a dandy wife who earns more than he does, is involved with their children, the children's school, and even with some of his wife's clients, Abby being a defense attorney. Mr. Tucker does some free-lance investigating for the school's principal, dodges rocks lobbed at him, and deals with many of the usual family matters that occupy a lot of us from time to time.
Therein lies the immense appeal of this book, part of a series. Aaron Tucker embodies elements we all recognize in our neighbors, if not ourselves. But Tucker manages to carry it all off without losing his cool. I like Aaron Tucker a lot. I like the writing, the pace and the dialogue, and I'm pleased to note that this book has been carefully copyedited which reduced grammatical missteps to a bare minimum. Actually I only noticed a single error. Cohen isn't trying to write great literature. He's having fun with the genre and doing it so readers can have an enjoyable time with their reading. What's more, the major mystery is a clever one, well-told. Find Aaron Tucker's stories. You'll be glad you did.
A Wasteland of Strangers
by Bill Pronzini
Walker & Company (reprinted by Canongate Books Ltd.)
Paperback, 264 pages, $13
ISBN: 0-8027-7560-8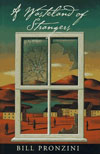 This is another of Bill Pronzini's intensive, commanding, explorations of current social ideas and concerns which move a national colloquy in many forums. But this is not a social treatis full of statistics. This is a moving, intense, crime novel that will captivate and enthrall the reader. Take one large, dangerous looking individual, John Faith, by name. He's a traveler, a seeker, a man on the move. Insert this stranger into a small resort community during the off season. This community happens to be in northern California, but such are the author's skills, it could be anywhere. It could be your hometown.
John Faith is the immediate object of suspicion, because he's a stranger and he doesn't look like he belongs. His presence gradually reveals and widens long-standing cracks in the comfortable, biased attitudes and ideas of almost everyone in town. Why has this man come to town? What are his motives? His answers are enigmatic, and even at the end we are left with questions. John Faith's encounters with the police chief, the bigoted lake-side resort owner, some local Native Americans, and a bartender or two, are like pebbles dropped in a placid pool. The ripples expand and expand until they reach the edge of the pool and die. Except in this case, the ripples grow larger, intersect and become irresistible waves that begin to tear at the base fabric of the town.
This psychological thriller is tightly plotted, and intricately presented. It's pace is irresistible. A Wasteland of Strangers is a thoughtful, satisfying crime novel. Artist Doug Henry has presented a handsome, evocative cover illustration. Highly recommended.
© Carl Brookins.
Permission is hereby granted for reproduction of any material contained in this web site for purposes of publicity and promotion related to the sale of our books and/or appearances by Carl Brookins.