BIOGRAPHY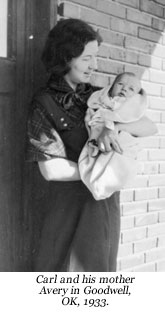 Although I've traveled widely, I'm a Minnesota boy. I graduated from Murray High School in St. Paul, and from the University of Minnesota in Minneapolis. I acquired a bachelor of arts in several subjects, including art, history, humanities, journalism, and television and radio. A wise man suggested that broad path with multiple majors and I have always been grateful for the suggestion.
After a stint in the United State Navy, I spent fifteen years working in public television, first in Minnesota and later in North Dakota after I attended graduate school at Michigan State University. During that time I wrote scripts and continuity and produced hundreds of educational, classroom and public television programs.
During this time my wife, Jean, and I raised two fine daughters, who are enjoying successful professional careers. Now living in the Twin Cities, I retired after almost twenty-five years as a faculty member and advisor for adult students at Metropolitan State University, in St. Paul.
Along the way I've also had some success as a Cable TV administrator, program producer and host, free-lance photographer, and playing a few roles in a number of community theater productions.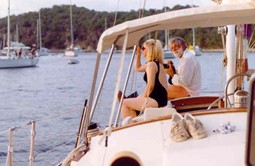 Writing, like reading, has been part of my life almost forever. First it was scripts and reports and articles. Novels came later. My first mystery, Inner Passages, published in 2001 by Top Publications, was followed in 2002 by A Superior Mystery, and Old Silver in 2005, also from Top. On September 2, 2005, the first in my new series was released. It is a hard cover noir about a private investigator named Sean NMI Sean. The novel, titled The Case of the Greedy Lawyers, is published by Five Star Mysteries. This new series is intended to be my homage to the crime fiction genre which has provided me with so much enjoyment over many years. The sequel, The Case of the Deceiving Don, was released in 2008.
I've always been a reader. Some of my fondest memories are sitting on our screened porch of a summer day with my mother, she with her book and me with mine. The Hardy Boys and Nancy Drew were part of my scene then as was the series featuring the Swallows and the Amazons, by that fine English writer, Arthur Ransome.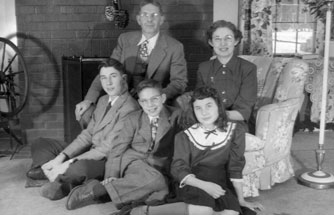 Carl's family, 1948
Today I try to return some of the pleasure I always found in mysteries by reviewing books, at various times, for the St. Paul Pioneer Press, Mystery Scene Magazine, ReviewingTheEvidence.com and Books n' Bytes. I am a member of Sisters in Crime and Mystery Writers of America (MWA).
© Carl Brookins.
Permission is hereby granted for reproduction of any material contained in this web site for purposes of publicity and promotion related to the sale of our books and/or appearances by Carl Brookins.