OLD SILVER
What they said about Old Silver:
"This is a book that had one of the must unusual plots I've ever encountered, with lots of twists and turns to keep it interesting and to keep me reading happily along. The bad guys are frighteningly efficient and suitably callous. The book is extremely well written with excellent descriptions, and obvious first hand knowledge of sailing, while the characters are beautifully portrayed. RECOMMENDED."
-Eden Embler, I Love A Mystery Newsletter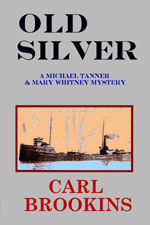 "There's nothing tarnished about Old Silver. Dark secrets raised from the deep and masterful sailing scenes sweep this suspenseful yarn along faster than an Alberta Clipper. Another superior mystery from Carl Brookins. Don't miss it!"
-William Kent Krueger, author of Mercy Falls
"In Old Silver, Carl Brookins deftly mixes mystery, dark history, and political intrigue with shipwrecks, wild storms, sailing and scuba diving. His charming and feisty sleuths—Michael Tanner and Mary Whitney—follow in the tradition of Nick and Nora Charles."
-Mary Logue, author of Bone Harvest
"The lure of sunken treasure, the treachery of secret societies and the greed of corrupt families. If you crave excitement, adventure and a murder or two, get on the boat with Carl Brookins. Old Silver takes you places you never thought you'd go!"
-Don Bruns, author of Jamaica Blue and Barbados Heat
"A hundred year old letter and a brass plate from a ship called the Amador send Michael Tanner and Mary Whitney racing on a journey packed with suspense and excitement to investigate an old crime and several brand new ones."
-Sally Fellowes, mystery reviewer
View the video trailer for Old Silver:
Here's a preview of the book's first chapter.
Ethel Jandrice looked at the heavy pages she clutched and realized two things. Her gloved fingers were smudged with the grime of decades, and they were trembling slightly. She heard someone walking somewhere among the tall storage racks, racks so high they almost disappeared into the dimness of the high-ceilinged room. The sound of those footsteps carried down the long aisles. Earlier they were merely footsteps, now they sounded menacing, dangerous. In another part of the warehouse a worker pushed one of the wheeled stack ladders used to get to the higher shelves. The clatter of the wheels bounced around the cavernous space. When the noise from the ladder stopped, Ethel heard her heart pounding. She flinched and thrust the pages back into the box in front of her. The clatter came again, then stopped and she heard footsteps receding. Then a heavy door slammed shut and all she heard was her pulse.
She looked around. The long rows of gray steel shelves stretched away in either direction into brown dimness. The special hanging fluorescent light fixtures focused their harsh white glare downward, concealing the ceiling. This was her working world; shelves stacked high overhead, extending above the lights, shelves filled with records of bygone dreams, failures and successes. Papers of the dead. Her world, one of grays and browns and concrete, like the hard floor beneath her stool. It was a pale quiet world, much like Ethel herself.
It's hard to believe, she thought. I've been cataloguing collections here for nearly twenty years. I've almost never asked for a specific assignment. Now, because of Tommy, I ask for this one and look what has happened. I've heard about the interesting finds other people stumble over, but it never happens to me.
But now, maybe it had. Ethel had to think about it, this letter she had discovered stuck in an unrelated file folder. She leaned forward and rested her damp forehead on her wrist. Then she again reached into the box for the letter after automatically exchanging her soiled gloves for clean ones to protect the documents. There were three thick creamy-white pages of sprawling script in heavy, black ink. There was no salutation. It appeared that the first page was missing. This was not an ordinary letter between business associates. This letter spoke of cheating, of corruption, of blackmail.
Her day had started out in ordinary fashion, just as her days had for almost all Ethel Jandrice's working life. She rose at six in the pale dawn and made her singular, sparse breakfast, just as she had for ten thousand or so previous mornings. She dressed in her plain, simple, blue, work dress that almost matched the color of her eyes and she combed out her short curly faded-blonde hair. The fresh summer morning didn't interest her much on the short walk to the bus stop, although since Tommy had entered her life she was becoming more aware of such things. She was glad to get to the climate-controlled storage center, located on a short quiet street on the east side of St. Paul, before the predicted heat of the day arrived.
Work took her attention, work, Tommy, and sometimes poetry readings. Ethel Jandrice was a cataloguer and she was responsible for the organizing of new collections and general cataloguing of materials that were donated to the Minnesota Historical Society for safe-keeping. They never knew, when a truck would pull up to the huge delivery entrance with its steel overhead door at the document storage center, exactly what to expect. The records came in untidy, usually musty-smelling, often dusty, stacks of wood or cardboard boxes.
A very circumscribed life lived Ethel Jandrice, at least before Tommy. Work and home and the streets in between were almost her entire physical world. If she explored other horizons, it was through the records she handled, the television she occasionally watched and poetry.
Most of the boxes trucked into the records center, Ethel knew, contained ordinary business records, sometimes in the most appalling condition. She had found mice, alive and dead, and feathers and dirt, always dirt. Today she had discovered something else, something that should not have been included among the business records of, she glanced again at the box label to be sure. It read deVole Corporation, Chicago, Illinois—1890-1910.
The three heavy pieces of stationery appeared to be a personal letter from a "Tony." Was that Anthony deVole? It was written to someone called "Wally" who lived at that time in Duluth. Who, she wondered, was "Wally?" The answer was of more than passing interest. The letter indicated that something illegal had been planned between those two around the beginning of the previous century. Had the plan been carried out? Was it still a secret? Tommy might know. To find out, Ethel decided to commit a crime.
© Carl Brookins.
Permission is hereby granted for reproduction of any material contained in this web site for purposes of publicity and promotion related to the sale of our books and/or appearances by Carl Brookins.